How, Why CRMs Underwhelm (And What To Do About It)
F2 Strategy, September 21, 2020

CRMs - customer relationship management systems - are crucial to modern wealth management and drive a great deal of the technology spending by firms. Unsurprisingly, this is an area that can be costly if business leaders aren't clear about what they want their CRMs to achieve. This article by F2 Strategy looks at this space.
This is another example of an article from F2 Strategy, the consultancy working with firms catering for high net worth and ultra-HNW clients, which charts the technology driving the North American and global wealth management sector. To see a previous example of such an article, click here.
The editors of this news service are pleased to share these thoughts and invite readers to respond. Jump into the conversation! The usual disclaimers apply to content from outside contributors. Email tom.burroughes@wealthbriefing.com and jackie.bennion@clearviewpublishing.com

CR-Meh: How and why CRMs underwhelm (and what to do about It)
CRMs are here to stay in wealth management, but that doesn't mean firms are satisfied. The industry ecosystem is complex, and firms say that they need more from these systems to make them effective tools for advisors and leadership teams. The problem is that every firm has a unique set of needs. Many are exploring new CRM partners in order to find the one that fits within their individual firm.
Here are five key trends that wealth management firms are feeling when it comes to their CRMs.
Trend 1: Almost every firm has a CRM...but 25 per cent are looking for something better
In today's wealth management industry CRMs are ubiquitous—93 per cent of firms have a CRM in place. More than three fourths of them use Salesforce with the remaining quarter using a variety of other CRM partners. Firms established their CRMs years ago and since then, technology has grown, and their needs have evolved. Currently 25 per cent report that they are actively looking for a new CRM partner. What they find however, is that no CRM operates seamlessly within the complex wealth management ecosystem. Often wealth tech professionals spend significant time piecing together components to build value for their teams.
When seeking a new CRM, firms should look for features that provide a user experience layer that gives advisors all the components they need.
Trend 2: CRM? "Meh" - most wealth management firms not blown away by their current solutions
Overall, firms aren't thrilled with their CRM solution experience. Only three actually rated theirs a "9" or "10". Clearly, there is a misalignment between expectations and reality: firms think they are buying a "Ferrari" but end up with an "IKEA package of DIY Ferrari parts". But the reality is that most firms don't have the capacity to build what they need internally, so they leverage the platforms available.
To reduce the friction, align expectations with a potential CRM partner from the outset. They should begin by asking the right questions upfront to get what they want. For example, "Do you have anyone who has worked with a wealth management or advisory firm?" (If the answer is no, move on.)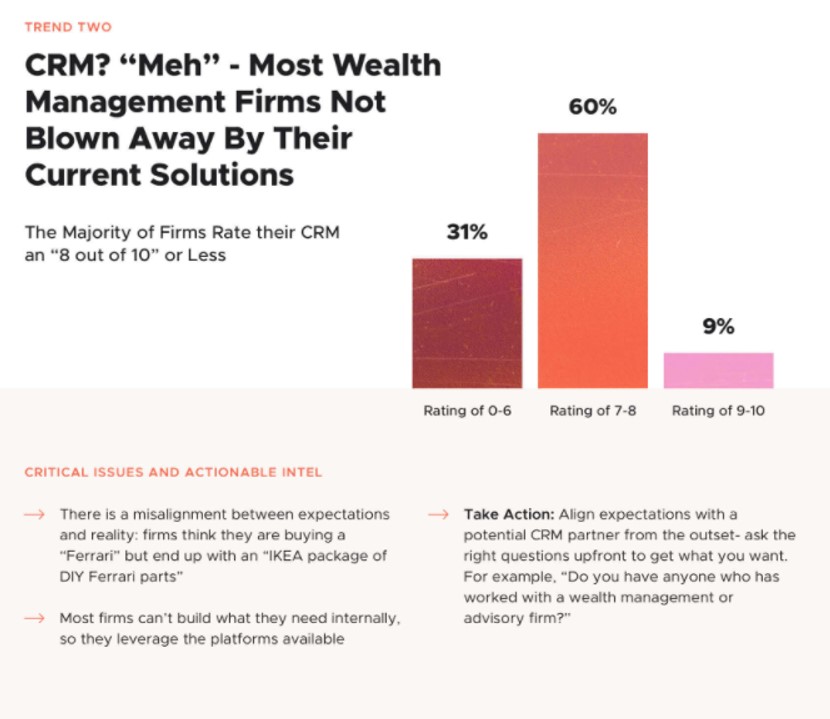 Trend 3: Firms say "more" would Increase their happiness with their CRM's effectiveness
There are a lot of elements firms would like to have in order to be happier with their CRMs. Interestingly, as with many other systems, more support with employee adoption tops the list. This is because a CRM is only as good as the data entered into it, but unfortunately firms report that employees often lack interest in maintaining data. Firms consistently say that they struggle with how to make their CRM a hub/single pane of glass for their teams.
There are a few ways to encourage employee adoption that have worked for some firms. One is to implement gamification strategies or make it an unavoidable tool for all employees. Another is to seek operational changes that improve senior executives' days so that the data they need can be entered into the CRM.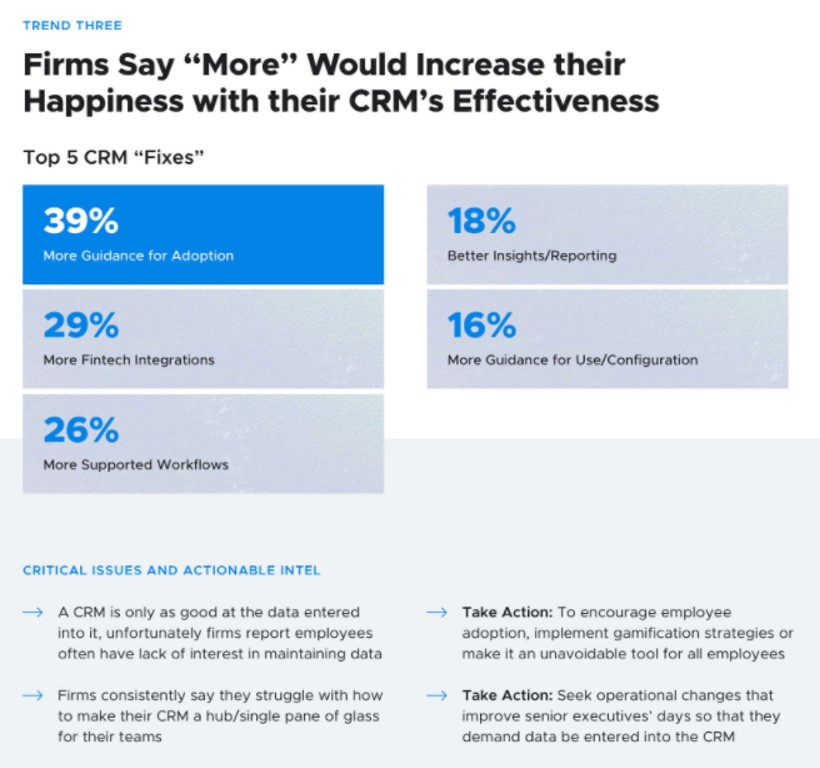 Trend 4: Measure twice, cut once: firms with internal buy-in and clear vision can't lose
Another way in which firms can find success with a CRM is to build internal ownership. When firms are committed to using their CRM, the data model provides more value to the entire team. To gain internal buy-in, firms should undertake a journey mapping exercise early on in the process. When they spend time up front to set expectations for what they want the CRM to do, they will deliver a better product in the end.
Trend 5: Firms report happiness with managed service providers
Finally, Managed Service Providers can provide a level of support that make CRMs more effective, ensure a strong foundation and enjoy long-term success. Firms should be aware that disparities in both cost and experience exist when it comes to implementation partners and configurers. It's important to select a Managed Service Provider who can provide focused project management for integrations, structured roadmap methodology, increased functional velocity and strong change management and training.

F2 Strategy Research, a division of the global consultancy F2 Strategy, delivers intellectual and advisory-based research on technology and business issues impacting the RIA, wealth, bank/trust and family office industries.