Five Trends For Planning WealthTech's Next Five Years
F2 Strategy, September 11, 2020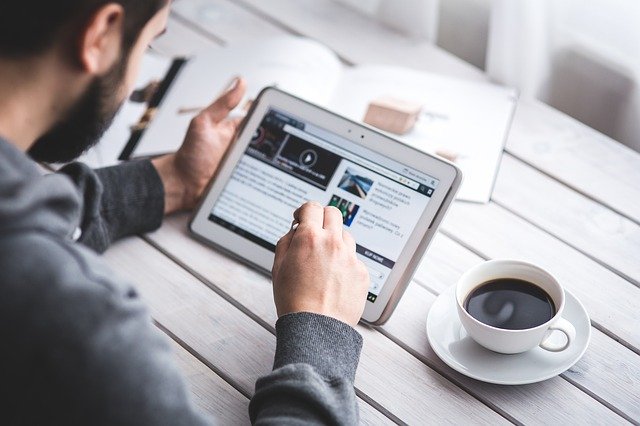 Wealth management firms are already, the authors of this paper argue, planning out their technology strategy and needs for 2021, working out the changes needed for years to come. At a time when the COVID-19 crisis continues to dominate many headlines, these insights are particularly useful.
This is another example of an article from F2 Strategy, the consultancy working with firms catering for high net worth and ultra-HNW clients, which charts the technology driving the North American and global wealth management sector. To see a previous example of such an article, click here.
The editors of this news service are pleased to share these thoughts and invite readers to respond. Jump into the conversation! The usual disclaimers apply to content from outside contributors. Email tom.burroughes@wealthbriefing.com and jackie.bennion@clearviewpublishing.com
It's already well past halfway through the year and planning for 2021 and beyond is in full swing. Our F2 Strategy Research team connected with an elite group of the leading wealth tech decision makers in the industry to discuss how they plan to pivot into a new age of strategic planning during a pandemic that looks as though it will ultimately change the way we run our businesses for years to come.
On a high level: Most firms will increase their tech spend as they work out ways to enhance their digital client experience, embed digital into the foundation of business growth and fix problem areas when it comes to project execution.
Below are the 5 big trends that are coming out of these early stages of planning:
Trend 1: Tech spend increases to "keep up" rather than "get ahead" of the competition next year
In 2021, 81 per cent of firms expect to increase their tech budget by more than 5 per cent over 2020. Post-COVID-19, boards have clearly committed to spend more on tech, but it's the reason why they are spending more that's surprising. Many firms say the main driver of their increase in tech spending is primarily based on keeping up with competition and client expectations versus exceeding them and achieving growth. In addition, the predominant focus on tech growth is on improving experiences including improving digital, frictionless client/advisor experiences, integrating platforms and ensuring scalability/growth support.
Unlike in years prior, increased tech spend is now critical to the survival of the company. Firms must spend wisely and have good counsel to maintain their...
Trend 2: CTO transitions from order taker to strategic leader
This is the moment when the role of chief technology officer will become that of a strategic leader. Firms are working out how to articulate the need for tech as a business case. It is clear that they need to show the value of tech beyond traditional ROI like never before. Historically, firms have struggled to align tech with the client experience. Other industries are ahead of financial services when it comes to aligning with client expectations and could be sources of inspiration.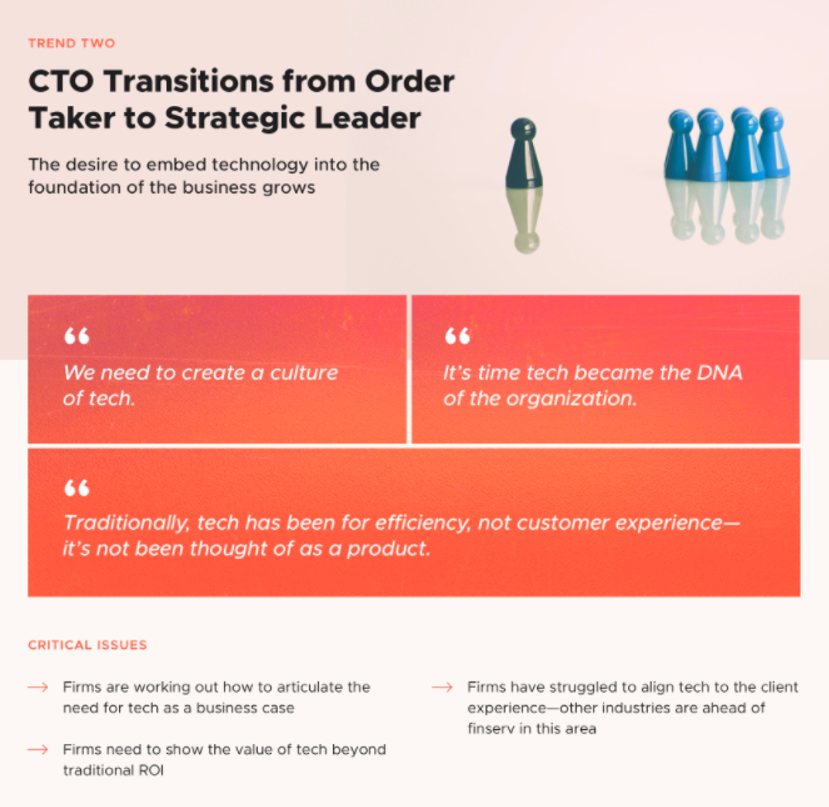 Trend 3: Firms See digital experience as a cornerstone for innovation
Planned priority areas show that future client experiences will be increasingly digitally interactive and on demand. Firms expect tech enhancements to lead to more diverse and global client bases. It's important to note, history shows, after a disruption comes a period of transition; therefore firms should act now to improve marketing and branding to prepare for the transition or risk being left behind.
Trend 4: The biggest unknown - will the economy be a roadblock for five-year visions?
The economy. What lies ahead is anyone's guess. Firms, still reeling from the sudden instability caused by the pandemic and it's largely unknown long-term impact, question whether it makes sense to plan five years out anymore. This economic uncertainty is a potential roadblock to planning appropriate staffing, large investments in tech and the capacity to take on multiple transformative projects. In addition to the economic uncertainty, firms see other concerns that could derail five-year visions, including the future regulatory environment, merger and acquisitions and changes to competitive landscape and unanticipated disruptive technology.
Trend 5: No lack of blame firms fixing many problem areas to improve project execution
While reasons why project execution misses the mark vary by firm size, across the board, firms cite the need to address poor training and adoption. Firms also say that communication and transparency between tech groups and business groups are the keys to improving project execution. In addition, speed is lacking - only 14 per cent of firms fund tech projects within two weeks; 47 per cent take more than three months. The question is, can agile firms do it better? And if so, what should everyone learn from them?