The Art Market: What Has Changed, What Should Stick
Anita Choudhrie, July 28, 2020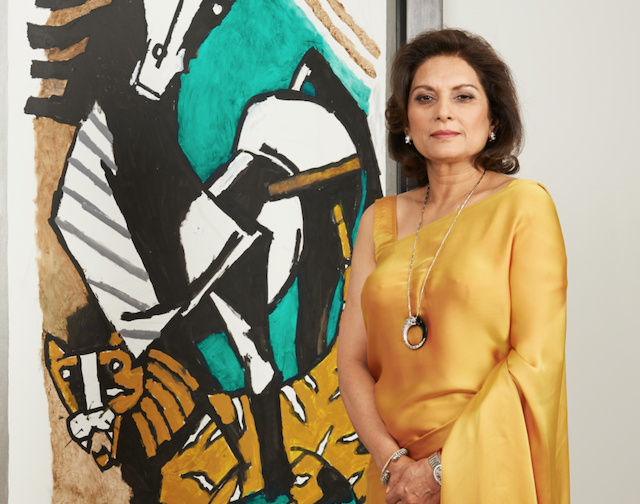 The pandemic offers art world players a chance to make big industry changes. This view, from a long-time collector, marks a fresh look at this important asset class for coverage in August. The last few months for the sector have been a painful reset for some and a renaissance for others. Either way there's plenty to unpick.
Anyone who follows the world of art will be aware of the amazing innovation that the industry has come up with in order to adapt during the crisis. With galleries and auction houses shutting their doors, and art fairs being postponed, they have been quick to adapt to using new technologies to continue operating to the best of their ability. The pandemic may be wreaking havoc on the world, but it is also providing the long-needed incentive for the art industry to reflect on how it engages with society more broadly and how it embraces change.
Not only is this acceptance of technology helping the industry to weather the crisis, it is also acting as a powerful democratizer. Artists are using lockdown to set up their own websites, to curate their own shows and display their art on social media, enabling them to engage directly with potential buyers and to continue creating pieces in response to this anxious time.
Additionally, online initiatives such as the #artistsupportpledge are encouraging artists to put their work up for sale for less than £200 apiece. Searching the hashtag, you will see some fantastic artworks available to buy from emerging artists for significantly less than what they would usually cost. Schemes like this are helping to make art more affordable and accessible to everyone, democratizing a typically elitist industry. The truth is that everyone is capable of some form of philanthropy, and by embracing this narrative, the art industry will continue to attract new investors to support its growth and continued success.
With the global economy currently disrupted and with no clear indication of when "normality" will resume, it is understandable that collectors may be treading carefully with their next investment. Yet as we know, art has long proven to be a stable investment, often outperforming other asset classes and weathering the most difficult of global financial storms. According to a Statista report in 2019, the global art industry was valued at $67 billion, a stark contrast to the art market's $39 billion evaluation in 2008 and 40 per cent decline between the recession years of 2007 and 2009.
Despite this strong resolve, it cannot be denied that COVID-19 is an unprecedented event which will continue to have far reaching effects. For many galleries and museums, the pandemic hit just as they were preparing for the busy summer season after the quieter winter months. With incomes down across the board and doors still closed to the public, philanthropic donations have never been more vital in supporting art ecosystems.
Of course, every collector's situation is different, but there are definitely bargains to be had across the entire spectrum of the art market; whether you are in the fortunate position of being able to invest in fine art, or are considering making your first purchase from the emerging category.
I would encourage art collectors old and new to recognize this period for what it is; a momentous time which, with your support, could lead to a vital democratization of the industry - your next purchase might not only be a financial investment, but a significantly cultural one too.
About The Stellar International Art Foundation
Established in 2008, The Collection is internationally known for its content, coverage and activities globally, and it is a particular champion of female artists and feminist art. The foundation comprises around 600 works dating from the late 19th Century to the present day, including international artists and ranging from sculptures to paintings. It distinguishes on individual talent rather than regions and gives an insight into the cultural viewpoint of individuals with diverse understandings of the world.