The Thin Line Between Advisor and Therapist
Amy Aubre Castoro, September 24, 2019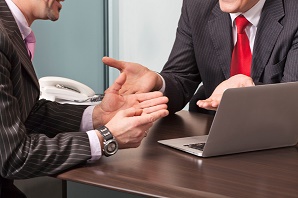 What is the dividing line between advising a client and offering what amounts to therapy? In many situations, the boundaries aren't easy to identify.
Engaging in family dynamics requires diplomacy
Engaging the softer side of family relationships is a risk that needs to be managed skillfully, according to Jeffrey Verdon, managing partner of Jeffrey M Verdon Law Group, LLP.

Verdon says, "Affluent families rarely have the conversations about what is expected of them as heirs to the family legacy. They are flying blind, not really sure what the expectations of them are or what they should be doing. If I push a family into a direction they don't want to go, they may not be willing to work with us." The sudden loss of the patriarch can throw the family members into a sustained disruption with devastating consequences.

As Verdon begins the planning process for clients, family issues always arise. He often gets pushback when he suggests that adult children get involved. "Parents don't want the kids to know they are rich, which is a funny phenomenon because the kids already know that," he says. "I feel like a therapist at times. Lack of communication with the adult children will only exacerbate the problems when Gen 1 dies. The lack of communication with Gen 2 will likely lead to problems and confusion. Gen 1 should go through the process of indoctrinating Gen 2 to the responsibilities of heirship."

When Verdon sees a family refusing to address relationships head-on, it is a warning sign that there will be a bigger problem down the line.
The value of a neutral, third-party coach
In our book Bridging Generations: Transitioning Family Wealth and Values for a Sustainable Legacy, we provide a 10-question checklist that measures family members' readiness for wealth transition, along with instructions on how to score the checklist. We recommend that families use this checklist to measure their progress annually.

Verdon uses this checklist with his clients, too. His approach is to urge the softer conversations once the estate planning has been done. At that point, he finds it easier to inquire a bit further because a relationship has been built, and the issues typically surface through the planning process. "When we wrap the engagement, the work is done and the documents are signed, we will give the family a link to the ten-question quiz to assess family readiness and suggest that they consider investing the money to work with a family coaching organization to see the results."

With any service you pay for, whether business or personal, you have to weigh the cost of hiring the outside expert against the benefit you get from doing so. This is true when you hire someone to clean your home, do your landscaping, manage your investments or help you plan the transition of your wealth to the next generation.
---
Signs to watch for
As you work with your clients, watch for signs that a deeper conversation is needed about the emotional and interpersonal issues that are impacting their financial decisions. Here are six:
1. Siblings, or family members in different generations, are not speaking to each other.
2. Some family members are unwilling to attend family events, such as weddings or holiday get-togethers.
3. They can't discuss philanthropy because the family hasn't talked in years.
4. It's difficult to get family members to come to a family meeting or even to schedule one.
5. A sense of entitlement is predominant, the next generation has failed to "launch" and a successful wealth transfer is unlikely.
6. Communication with the family requires you, the financial advisor, to be the messenger.
Tips for promoting harmony among family members
Here are three strategies that can help you navigate the turbulent waters of family dynamics as they relate to money:
1. Step out of your comfort zone, and ask questions that can identify the source of the issues. Inquire about the health of family relationships, point out concerning behaviors that need attention and make a focus on family dynamics an integral part of your process. If you are not asking the deeper questions about family dynamics, there is an excellent chance another advisor will. Asking questions like, "What keeps you awake at night?" or "Which of your children do you feel is most qualified to succeed you as the CEO?" will bring emotional issues to the forefront.

2. Again, know your limits. When the situation goes beyond the level at which you feel you can be an effective mediator, call in a neutral family wealth counselor. Provide your clients with vetted family resources, and share examples of other family situations to help them see the value in getting the support they need.

3. Show clients the potential cost of not resolving their issues. Show them some numbers that demonstrate the significant impact that unresolved family-relationship issues can have on their ability to preserve the family's wealth. If the potential loss of family harmony doesn't get their attention, maybe that will.
Knowing when you have crossed the line from advisor to therapist, and how to handle it, will give you more confidence to navigate your client's family dynamics. Also, it will differentiate you as a highly competent advisor and can give you more consistent access to the next generation.
About the author
Amy is the president and chief executive officer of The Williams Group. For eight years Amy has specialized in helping high net worth families to prepare the next generation and successfully transfer family wealth and values for a sustainable legacy. Amy offers more than two decades of experience developing leadership competence, aligning ambition with purpose, and increasing satisfaction and productivity.
Amy's experience with The Walt Disney Company, Adecco Corporation and Grant Thornton Management Consulting provided her with a strong foundation of leadership in organizations.
Amy holds a bachelor of arts in organizational psychology from Adelphi University, Garden City New York. She is a Master Somatic Coach through the Strozzi Institute. Amy completed a three-year business course with Hecht and Associates which emphasized the design of new offers and optimizing threats and opportunities in business. She is engaged with continuing education with Dr Fernando Flores focused on creating high performing teams.

Amy's Book
Bridging Generations – Transitioning Family Wealth and Value for a Sustainable Legacy (2017)

Publications

"The Rise of Women as Philanthropic Leaders" (Trusts & Estates, May 2018)
"How to Leave an Inheritance Without Causing Grief" (Forbes, February 2018)
"What to do when your client's family can't get along" (Financial Advisor, February 18, 2018)
"How to plan for wealth that lasts for generations" (CNN/Money - multi-generation-wealth- September,
2018)
"Wealth Transition & Entitlement: Shedding Light on the Dark Side of a Charmed Life" (The Journal
of Wealth Management, Fall 2015)