Launch Of New Online Database For Single Family Offices
Tom Burroughes, Group Editor, May 1, 2019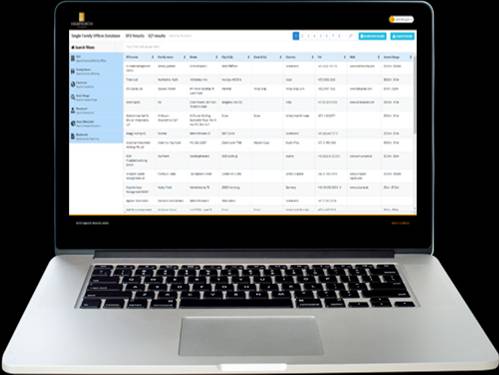 This publication is embarking on a major new partnership with Highworth Research to deliver data on the fast-growing single family office sector.
Single family offices are multiplying – there now are as many as 5,000 - and they hold trillions of assets under management. (According to EY, the figure could reach almost $70 trillion by 2021.) They are also discreet. Finding data about them is challenging, particularly outside the US.

But help is at hand. Family Wealth Report and sister news service WealthBriefing are to shine a brighter light on the sector with The Single Family Offices Database, issued in conjunction with Highworth Research. The resource provides those who wish to engage professionally with SFOs – such as asset managers, wealth managers and associated professions – with detailed profiles of 1,100 single family offices, 800 of them in Europe, the Middle East and Africa.

The database tracks family offices of an individual or single family with AuM ranging from $25 million to over $25 billion; it also covers sovereign family offices for a member of a ruling family of certain countries. Family-owned investment companies and a small number of "double-single" family offices where two families have partnered to form a joint family office, which is closed to other families, are also covered.

The SFO profiles are presented in a standard data structure, and include the identity of the SFO and the family behind it, the value range of assets under management, an analytical description of how the family gained its wealth, the investment strategies, indicative asset allocations, sample holdings, contact details for the SFO's staff, including biographies for many, and details of the family's private philanthropic foundation(s).

Profiles vary in detail depending on the degree of reclusiveness of the family office, but many professionals who currently struggle to access the SFO community in an efficient and well-informed way will find Highworth's Single Family Offices Database an invaluable aid.

Highworth estimates that there may be about 5,000 SFOs globally but nobody knows the true quantity. However, Highworth has found that the numbers divide roughly equally between the US and the rest of the world.

Outside the US, Highworth's database shows that the UK has the highest number of SFOs, followed by Switzerland, Germany, France, Spain and Canada in that order.
Acceleration
Strong acceleration in wealth formation in Asia Pacific has not yet translated into large numbers of single family offices, except in Australia which has about the same number as Canada. Among small population countries, Norway and Chile stand out for their disproportionately high number of SFOs.

The SFOs on Highworth's database are classified into 10 ranges of assets under management. Almost 70 per cent of the SFOs fall into the $100 million to $5 billion range, 22 per cent have between $100 million to $500 million, 18 per cent have between $500 million to $1 billion, 19 per cent have between $1 billion to $2.5 billion, and 10 per cent fall into the $2.5 billion to $5 billion range. Curiously, the smallest range, $10 million to $50 million, holds the same proportion of SFOs - 5 per cent - as the largest range of over £15 billion.

The data also sheds light on family offices' appetite for assets such as private equity and hedge funds, for example. Some 82 per cent of single family offices invest in private equity either directly or through funds or both; the next most popular asset class is commercial property, favored by 63 per cent; residential property by 51 per cent; real estate funds by 45 per cent; venture capital by 37 per cent; and hedge funds by 25 per cent.

By comparison, for example, European equities attract 41 per cent, corporate bonds 15 per cent, and impact investments 11 per cent.