What Military Personnel Bring To Wealth Management
Tom Burroughes, Group Editor , August 14, 2018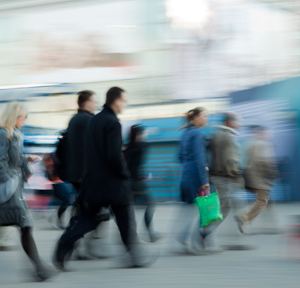 This publication talked to a number of serving/former military personnel about their experiences and how they can be applied to managing money and advising high net worth clients.
Wealth managers must cast a wide net to attract standout talent to handle challenges such as an expected $30 trillion intergenerational shift of money in coming years. And those who have come into the fold for many years include the military.
While a recent Barclays survey suggested that female former military personnel face more of an uphill battle to get into financial service jobs than their male counterparts, that survey and plenty of anecdotal evidence from around the world reminded this publication how this seaction frequently crop up in the jobs market. It is quite common for this news service to see those formerly in the US Air Force, Navy, Marine Corps and the Coast Guard now managing money for high net worth clients. Why do private banks, wealth managers and family offices like hiring them?
"I think companies that hire military professionals are at an advantage. I love the diversity in the military, because you're working with all different kinds of people, but none of the differences matter. You earn respect and you follow the direction of the people above you with complete trust. It's a rigid role structure, and I think military people have an easier time deferring to their superiors in a business setting," Ethan Collins, managing director and Partner of Wolf-Collins Wealth Management at HighTower, told this publication. (Collins served in the Army, retiring with the rank of Lieutenant Colonel.)
With about 1.3 million active-duty military personnel and around 800,000 reservists, such persons do not of course make up more than a relatively small section of the total US workforce (about 0.8 per cent, according to the World Bank, based on 2016 numbers), but judging by how quickly FWR was messaged by them when we started to investigate the sector, a significant number go into wealth management. In some countries, such as Switzerland, Singapore and Israel, the military connection is strong because these jurisdictions have a compulsory draft. Most Western democracies abolished conscription before or after the end of the Cold War.
Several large US financial institutions make a point of helping military vets make the transition into civilian jobs. For example, in May RBC Wealth Management US expanded its commitment to military service members through a new partnership with Hirepurpose, a New York-based organisation that connects military veterans with civilian jobs. Also US bank Morgan Stanley has pledged its commitment to support veterans in civilian employment. Bank of America Merrill Lynch has programs to assist transition out of the forces.
There are military links in other ways. Former military folk can often be in hot demand for guidance and motivation. The argument goes that it is a lot easier to make a management team understand a lesson from someone who has been in combat. For example, former US Navy SEAL members Jocko Willink and Leif Babin, who served in Iraq, shared their lessons about leadership in a New York Times #1 Bestseller, Extreme Ownership, and founded a business, Echelon Front, that works with companies and other organizations to inculcate a winning mentality. Stanley McChrystal, one of the most senior US military figures of the Second Gulf War campaign, regularly talks about leadership and, like several others, is a regular on the TED Talk circuit; he is also the author of several books, such as Team of Teams. Such use of military metaphor and experience goes back a long way – consider how Sun Tsu's Art of War is one of those books a certain type of business person likes to quote from (possibly to the vexation of their colleagues).
Lessons
"The ability to think on your feet and take on information is important; being able to understand how to differentiate real information from noise is also really helpful. The ability to be calm under pressure is really helpful," Jeff Farrar CFP®, CIMA®, AIF®, chief operating officer and managing director at Procyon Partners, told this news service. (His firm is based in Connecticut.)
Farrar served in the US Coast Guard for more than eight years; it did not take him long before Farrar was running patrol missions against smugglers and others in the Caribbean. This experience put him in leadership roles at a young age - something that often does not arise in other, civilian, walks of life. Former military personnel can bring certain qualities to the job: doing what you say, a tight focus on an objective and building a team spirit.
And military life can provide lessons in dealing with stress – something that is surely relevant considering worries that build over stock market gyrations and company losses.
"A lot of what we do is helping to advise clients manage their emotions," he said.
Farrar's own post-military journey is instructive. After he left the Coast Guard, Farrar worked in financial services for a while, such as in equity trading. He learned a great deal but disliked how this part of financial services was "too transactional" for his liking. His passion is for helping clients to move towards a goal, he said.
One rather clear benefit to starting out in the military is money – no student debt (in most cases). Farrar said the Coast Guard enabled him to attend grad school without a hefty loan although the "payment" comes in the form of serving for several years in the forces. (There are no free lunches in economics.)
Farrar was asked about the issue, as flagged in the recent Barclays study, that female ex-military personnel seem to have more of a challenge pushing into financial jobs than their male peers. He did not comment on the specific figure, but noted that among the Coast Guard personnel, for example, about 40 per cent of the entry class is female – a strong figure.
There can be struggles in moving out of the forces, and Farrar said one useful tip is that, several years before a person knows their military career is going to end, they should consider courses and career paths so that when they go for job interviews they can show they have prepared. "A couple of years out it makes sense to start thinking about it," he said.
"While you are in the military services, get some designations, such as CFA or CFP....", he said.
HighTower's Collins' career involved him spending 20 years in the US Army, retiring with the rank of Lieutenant Colonel in 2001, doing roles as diverse as being an undercover narcotics agent in Miami to being an acquisitions core manager. The military paid for his bachelor's degree and his master's degree.
"Most military members who leave the service end up working as civilian contractors on government projects. I actually had accepted an offer for a role like that, when a friend of mine called me out of the blue to tell me Merrill Lynch was hiring senior leaders from other industries, as a way of shaking up their leadership structure and bringing in some fresh new ideas," he said.
"I went in for the interview at Merrill Lynch and it seemed really interesting. They must have been impressed with my leadership skills, because they offered me the job and told me they were willing to train me. I accepted, and worked at Merrill Lynch from 2001 until 2014, when William Wolf and I came to HighTower. HighTower was a good move for us, as we both really believe in the fiduciary standard and think it's important for clients to be able to have ultimate trust in their financial advisors," Collins continued.
"In my opinion, trust is the most important aspect of this job. You need to be able to trust your financial advisor, and have faith that he or she is going to use your savings wisely and do what is best for you and your family, and I think coming from a military background gave me an edge there. The military really drives home the idea of trust in leadership," he said.
"All of those things are tricky to navigate if you don't have your client's full trust, but coming from the military, I had the tools I needed to establish trust upfront. Transparency is the first step in gaining trust, so I am always brutally honest with potential clients. I sit them down and talk to them about everything – how the industry works and my thoughts on the fiduciary standard. ­ I have to be honest in order to form a trusting relationship with someone," Collins said.