Debate Heats Up Over Case For Gold
Tom Burroughes, Group Editor , May 3, 2018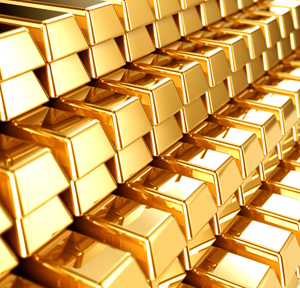 A number of commentaries have started to suggest that the economic and financial environment bodes well for the traditional safe-haven asset.
A debate is brewing over whether the classic safe-haven asset of gold is due for a comeback.

This week, State Street, the US financial services firm, set out the case for gold as an important way for asset allocators to spread risks and sources of return. Over at Goldman Sachs, the US investment bank and wealth management firm reportedly said (source: CNBC, May 1) that the case for owning commodities has "never been stronger". The firm sees the yellow metal hitting $1,450 per troy ounce by the end of this year. (Gold is currently trading around $1,311 per ounce, some way from its record high, chalked up in August 2011, of over $1,900.)

At UBS, the world's largest wealth manager said in a note (Why Gold Is More Than An Insurance Asset) that because it expects the dollar to weaken – typically a positive factor for gold – it expects the yellow metal to rise. Inflationary pressures and some uncertainties ahead of the US mid-term elections in November, may also boost the gold price, UBS said. "With the Goldilocks environment for risk assets likely over, gold's historical correlation to financial markets should provide diversification value in a portfolio context," wrote Wayne Gordon, who is responsible for the UBS Chief Investment Office's cross-asset strategy.

Earlier this week, it was reported that Egyptian billionaire Naguib Sawiris has put half of his $5.7 billion fortune into gold.

So is gold, overshadowed in recent years to some extent by the attention on crypto-currencies such as Bitcoin, due for a return?

Recent data suggests gold demand has not yet stirred. Demand for gold in the first three months of this year was at the lowest since 2008, according to industry figures that showed demand at 973 tonnes. With prices stuck in ranges, demand for gold bars and exchange traded funds linked to the metal was depressed, the World Gold Council reported today. Jewellery demand was steady at 487.7 tonnes, as growth in China and the US compensated for weaker Indian demand. Central banks bought 116.5t of gold (+42 per cent y-o-y). Technology demand extended its recent upward trend, growing 4 per cent Y-O-Y to 82.1t. The total supply of gold increased by 3 per cent to 1,063.5t, primarily due to a modest increase in producer hedging. Mine production was fractionally higher at 770t, the WGC said in its regular report on industry trends.

The volatile behavior of crypto-currencies over the past year may, perhaps, have refocused some minds on the long-standing virtues of gold as a risk diversifier, suggesting that modern tech innovations are not yet remotely close to matching gold's qualities as a hedge. That certainly appears to be the point of State Street Global Advisors, part of State Street. It notes that from January 1 through to March 31 this year, gold has had a low or negative correlation with major equity markets over that 18-year period. (Correlations are based on monthly returns in dollars.) With US equities, the correlation is negative at 0.01; with global stocks, it is slightly positive, at 0.12; with Asia-Pacific ex-Japan equities, the figure is 0.21, and 0.3 for Latin American equities. The correlation is negative for Japanese equities, at -0.08. (A correlation of 1.0 shows that an asset class moves in complete lockstep, while a figure of -1.0 shows a total negative relationship.) SSGA also notes that gold has had a low correlation with major bond markets over that period.

However, it may be that the return of gold should not be overhyped just yet. While inflation may return to vex central bankers in the next few years, possibly as a result of all that quantitative easing bearing its inflationary fruit, rising interest rates, and possibly a higher dollar as a result, might prevent gold from rising very far. (Traditionally, a strong dollar has not been good for gold.)

If or when interest rates in the US, and possibly elsewhere, rise, and equities and bonds hit a rough patch, gold could once again have its day. With firms such as Geneva-headquartered Pictet recently cutting overweight positions in stocks in anticipation that the bull market in stocks will stop, the yellow metal could be one for wealth managers to watch.