US Moves To Seize London Property Bought With Malaysian Dirty Money - Media
Tom Burroughes, Group Editor , June 13, 2017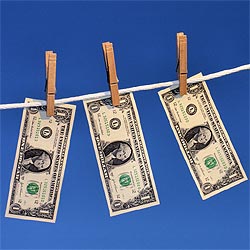 US authorities are moving to seize property allegedly obtained with money from a state-backed Malaysia fund that has become the center of an international money laundering affair.
In another twist on the 1MDB scandal that has seen banks kicked out of Singapore and prompted a raft of official probes, media reports said the US government has filed lawsuits to seize a London penthouse that served as headquarters for a company bought with funds linked to the affair.

The property, office building and another flat are all located on Stratton Street opposite the Ritz hotel in Mayfair. They were acquired with £77 million ($98 million) which financier Jho Low obtained from Malaysian's state-backed 1MDB, according to the US Department of Justice, as stated in court documents filed June 7 in the US District Court for the Central District of California. (To see a previous report about Low, see here.)

Low was described by the Wall Street Journal as a "flamboyant Malaysian deal maker" and central figure in the alleged plot to siphon billions of dollars from 1MDB. The London properties are the latest in a string of homes, art and other assets scattered around the world to be targeted for seizure by the US authorities. They have already identified van Gogh and Monet paintings, and luxury real estate in New York, Los Angeles and London, allegedly bought with money stolen from 1MDB.

Banks such as Falcon Private Bank and BSI have been told to leave Singapore because of failings linked to 1MDB transactions; authorities in Singapore have also punished a raft of banks with fines and other measures. The Malaysia money scandal has seen authorities in Switzerland, US, Singapore and Luxembourg become involved. It has even touched the makers, by a strange twist of irony, of the Wolf of Wall Street film (which chronicled the saga of a US stock market fraudster).

"Low acquired an interest in the Stratton penthouse and the Stratton flat using 1MDB proceeds," the Justice Department was quoted as saying. The DoJ has been working with authorities in the UK, the WSJ reported.

The Justice Department said in the filings it is seeking the forfeiture of the properties in London because they were "derived from violations of US law" and were involved with money-laundering offenses.